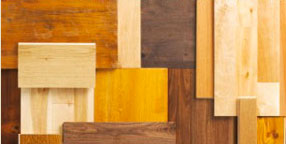 Whether you are building a brand new home or remodeling an existing one, flooring can completely change the way a room looks and feels. You have many choices available to you, as well. Choosing between laminate and engineered wood flooring is about much more than buying what is currently on sale. Here is everything you need to know about the differences between the two.
Look and Feel
Of all of the things that you should consider when choosing flooring material, aesthetic appeal and the way the product feels beneath your feet should be at the top of the list. Engineered wood flooring has a top layer of real hardwood, so it looks just like a solid plank of wood. Laminate flooring, on the other hand, is layer upon layer of photographs that look like real wood. Although the technology used to design laminate flooring has come a long way, it still cannot compare to the look of real wood. Both laminate and hardwood tend to remain warm underfoot, but because of the layers of pressed wood in engineered flooring, it tends to have a little more "give".
Cost
Second on your list of considerations should be the cost of the flooring, and part of the overall cost is the price of installation. To start, engineered wood is more expensive than laminate flooring. You can expect to pay anywhere from $3.99 to as much as $14.99 per square foot depending on the quality and overall design of the product. Conversely, laminate flooring is quite affordable with the low-end options starting at as low as $1.99 a square foot and topping out at $6.99 per square foot for the best of the best. Laminate requires less manual labor and is therefore cheaper to install. In fact, many homeowners do it themselves.
Installation
Both laminate and engineered wood are incredibly versatile. You can put them almost anywhere in your house, and both are excellent options for do-it-yourself installation. Engineered wood floors are a little more challenging, but if you buy flooring with a locking system, it is no more difficult than installing laminate. Depending on the type or style, even if you choose to do it yourself, it is quite common to finish even a large room in a single day. Professionals often charge a little more for engineered wood installation than laminate installation, though.

Longevity
Finally, it helps to consider the longevity of the different types of materials. After all, new flooring is an investment and you want it to last. Laminate resists scuffs, nicks, and scratches quite well, but if something should happen, you cannot sand it down and refinish it. Remember - it is not real wood. On the other hand, while engineered wood is more prone to scuffs and scratches, you can sand it down and refinish it once or twice during its lifetime. What's more, you can add protective coatings to improve its overall lifespan and aesthetic appeal.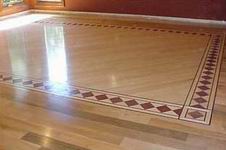 In a nutshell, whether you choose laminate or engineered wood flooring will depend on your overall budget and your unique needs. Laminate is great for high-traffic areas that are prone to scuffs and nicks, and it is also best for those on a tight budget. Engineered wood, though more expensive, offers a more realistic look and feel.