Laminate floors come in either planks, or squares and are designed to replicate real flooring materials, such as wood, stone or ceramic tiles. These floors are actually several different layers of various materials that are sandwiched together to form each plank. A printed film gives the floor the look of a real wood, or tile and is protected by a tough, durable wearlayer. The resins used in the wearlayer are said to be almost as hard as diamonds and provides unsurpassed wear and stain resistance.
The inner core, which is generally made from high-density fiber board is used to form the tongue and groove. The core is also the base that all the upper layers and the backing material are fused to. Some manufacturers treat the inner core with melamine resins, or water-resistant sealers to help protect the inner core from moisture.
The planks are usually fused together in either a one, or two step process. In the two-step process several layers are first glued together and then these layers are combined with the remaining materials and than glued and fused into a plank. This method is called High Pressure Laminate (HPL). The other method is where all materials are fused together in one step. This is called Direct Pressure Laminate (DPL).
The individual planks are secured together to create the floor in a similar way to how wood floors are installed. The tongue and groove of each plank is interlocked to the adjacent planks. Laminate floors are secured together using either a specially formulated, water-resistant glue that is applied to the tongue and groove, or some sort of specially designed, glueless locking system. The two main glueless locking systems either involve a tongue and groove that is reinforced from underneath by an aluminum locking system, or a tongue and groove system that is specially designed to snap and lock the planks together.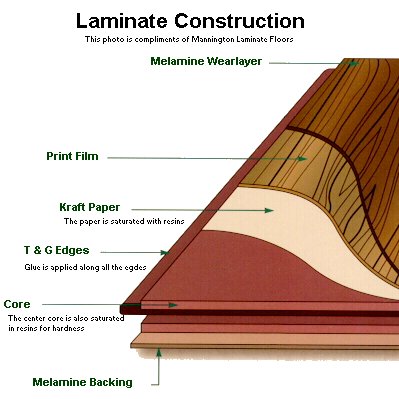 Backing - is usually a melamine plastic layer used to give additional structural stability and added moisture protection to the planks.
Core - generally made from high-density fiber board (HDF), particle board, or plastic, the core adds impact resistance, and forms the tongue and groove locking system. Melamine plastic resins are also impregnated in the core by some of the manufacturers to improve the moisture resistance of the core.
Melamine - is a plastic-type resin used throughout the construction process to add durability, and stability to the laminated planks.
Print Film - which is also called the decorative layer gives the floor the appearance of a real hardwood or tile. Some manufacturers, have been able to replicate the old wood floors found only in some old historical buildings.
Wearlayer - is a tough clear melamine layer with aluminum oxide particles. Using heat and pressure the wearlayer becomes an incredibly hard and durable finish. The resin-filled wearlayer is so dense it becomes extremely difficult to stain, scratch, or burn.
Underlayment - is a clear thin plastic sheet that is installed over the substrate before the laminate floor is floated. The plastic sheet helps the laminate floor to float freely above the substrate.
Exceptional durability with realistic visuals! Do you want the beautiful appearance of a real hardwood floor but with exceptional performance that will holdup from the wear and tear from kids, pets, and spills? This question is on the minds of many homeowners shopping for a new floor. The answer many homwowners have found is choosing one of the many laminate floors.
While these floors are similar in construction to the Formica kitchen counter tops they offer many added performance features. Laminate floors has a more durable finish to help protect your floor from scratching and chipping. They also come in planks and tiles with special tongue and groove locking systems.
Laminate floors originally came from Europe where they have been used in homes for over 20 years. Although most laminate floors are imported, a few brands are being made in the U.S.A.. The performance differences between the brands appears to be minor even though the construction methods that are used may be slightly different. All the laminate floors offer good performance characteristics and are may be confused with real hardwood floors. Even though these floors resemble real wood floors they are not wood. Our cross-section diagram of a laminate floor should help you better understand the differences between wood and laminates.
Note: Some European laminate flooring manufacturers have started to import a new type of laminate floor. These floors have a thinly-sliced veneer of real hardwood on top, which makes each plank look more realistic and unique.
Laminate floors offer many benefits for homeowners, including:
Exceptional durability
Easy clean surface
Superior stain resistance
Superior fade resistance
Can be nstalled on all grade levels, even below grade
Can be installed over many different types of subfloors, including concrete slabs
Glueless locking systems for the do-it-yourself homeowners
Great impact and indentation resistance
Exceptional realism at affordable costs
Easy to replace latter on, if desired.