Vinyl Flooring Types · Vinyl Flooring - Pros & Cons · Vinyl Flooring Features · Vinyl or Laminate Flooring? · Installation · Vinyl Flooring FAQs ·
Vinyl flooring material in recent years has become extremely popular among Canadian homeowners and contractors for the highly durable and cost-effective properties that it offers. It is a superb material to upgrade the appearance and sell-on price of your home without breaking the bank.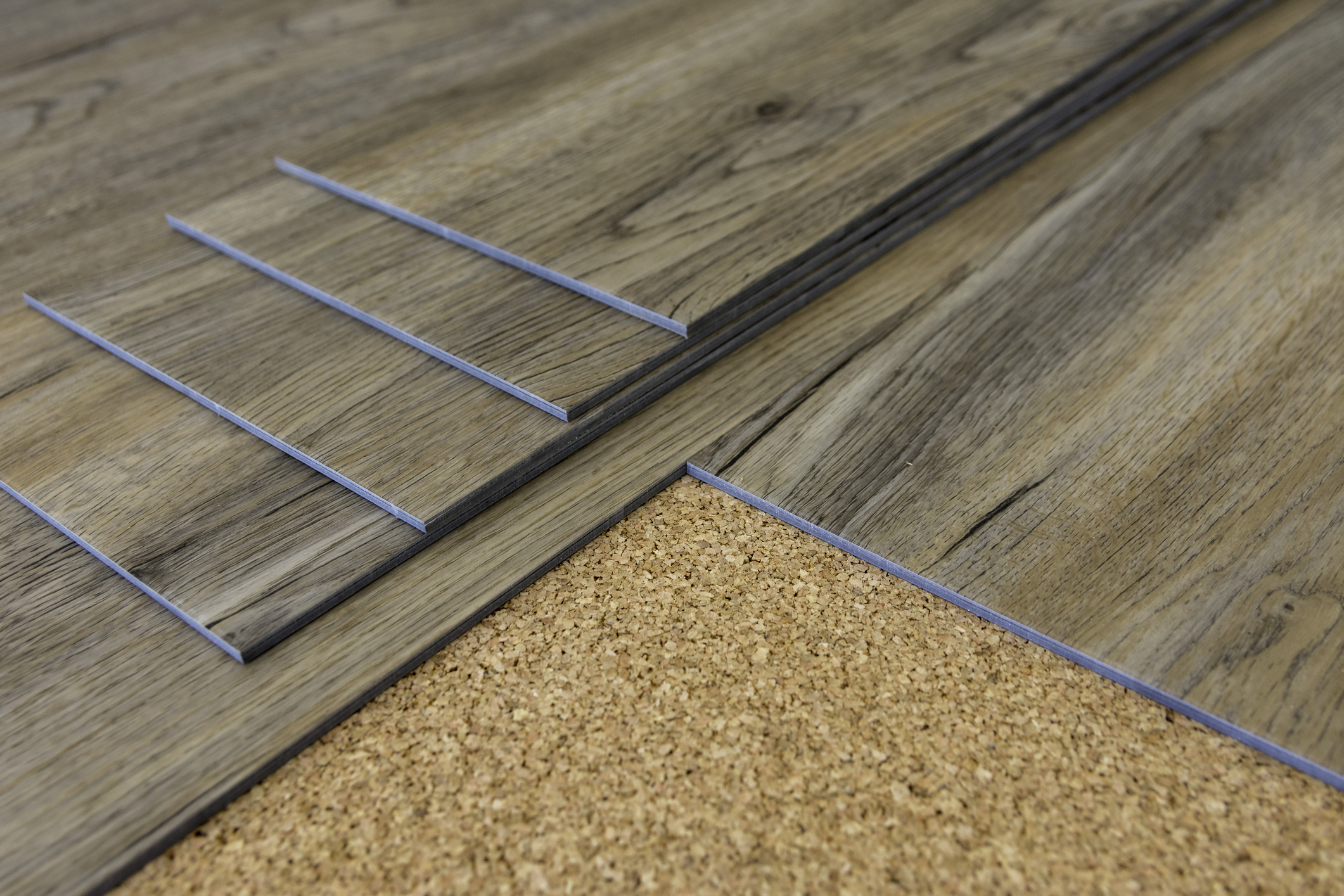 What is Vinyl Flooring?
Vinyl flooring is the ideal flooring material for the modern home in Ontario because it offers a barrier to heat loss for our long winters. In comparison to tiles, it is warmer and less costly. Additionally, vinyl flooring reduces noise and is easy to clean - both helpful features for homeowners who have animals or kids.
Vinyl Flooring Types
Vinyl flooring is very flexible and comes in a variety of ways. The two most popular vinyl flooring types are the tile and the plank.
The choice of your vinyl type will depend on the type of floor you are installing on, the shape of the room, and the appearance you hope to achieve. If in doubt, ask a professional.
The vinyl tile is, as you may expect, a solid square piece of vinyl that is arranged to fit the floor it is covering. The tiles can vary in size but the most commonly found are those between 12 and 18 inches across. The tile offers homeowners flexibility in appearance - geometric style designs are common, as are stone looks or checkered wood appearances. There are literally hundreds of tile designs to choose from.
Tile vinyl is generally attached to the floor either with a very strong adhesive that is applied to the tile, or with the peel-and-stick method. Both offer stability and adherence but users carrying out installation should be sure of where they are placing the tile before it is stuck down.
Plank vinyl comes in the shape of traditional wooden planks though offers users several advantages. Plank vinyl uses an interlocking system that links each plank to the next to ensure a tight, flat flooring surface. Vinyl plank gives a wood finish look but like tile can come in a large variety to suit any surroundings. Many finishes are so good that people often mistake the vinyl for polished wood.
The question of what is the best type of vinyl flooring depends on your situation. Tiles are often easier to install in small rooms but might be slightly more prone to fading - after many years of use - than the plank style.
Meanwhile, planks take a little more know-how to install than tile and are slightly harder to customize should you want a very unique appearance. This may be a job for the professionals.
So, the best type of vinyl flooring really depends on your needs. Contact Canadian Flooring for more insight and guidance on which flooring type is best for you.
Vinyl Flooring - Pros & Cons
Like any construction material, vinyl flooring has pros and cons that must be considered by the user. Some of the pros of vinyl flooring we have already gone over in this article's introduction. Vinyl flooring is far warmer than tiles, making it a great choice as a flooring material in Ontario, Canada.
It's also 100 percent moisture resistant, meaning it won't be affected by the cold and damp of Canadian winters. While wood is susceptible to mold when wet, vinyl flooring is completely untouched.
Additionally, the material will reduce the sound of scampering feet from pets or smaller children, making it a great choice for a home where a growing family lives.
A particularly attractive feature of vinyl flooring is the ease of cleaning. Simply run a wet cloth or mop over the stained area to remove grease and grime. The vinyl itself will not stain should any particularly colourful food or other materials fall onto it.
Vinyl flooring can be laid on top of virtually any flooring surface - cement, tiles, or even granite - and offers an antistatic base to walk on. It is highly durable and will not need to be replaced for at least 10 years.
And of course, vinyl flooring is extremely cost-effective. It is far cheaper than wooden floors or tiling and is much quicker to install. In fact, its installation is so easy that many people opt to do it themselves. Its low maintenance and sheer variety of styles are also a definite bonus.
Like any other material, there are also cons. The chief among these is that the vinyl can be punctured by very heavy or very sharp objects if they are dropped. While tiles would break or wood would be chipper, vinyl can be pierced.
Another con is that the material can fade if it is installed in a room that receives excessive sun exposure. For this reason, vinyl is not recommended for conservatories or rooms with glass ceilings.
Vinyl Flooring Features
One of vinyl's major strengths is its incredible versatility and the hundreds of different styles that it comes in. So, let's take a look at some of the most popular vinyl flooring features:
Luxury Vinyl - Luxury Vinyl, sometimes referred to by its acronym LVT or LVP is a particularly thick vinyl type that offers a luxurious and hard-wearing feel underfoot. Due to its thickness, luxury vinyl tackles one of the vinyl flooring's weaknesses - that is can tear. Luxury vinyl will not tear, and like any other vinyl, it is entirely waterproof. Luxury vinyl is often found with hardwood or stone styles and with its incredible durability is a superb vinyl choice for buildings that have expect high foot traffic.
Natural Wood-look Vinyl - This vinyl feature offers the attractive appearance of wood, with all its natural intricacies and tones, to your home. Unlike natural wood, it doesn't come with a massive price tag. The wood-look vinyl can come in a variety of tones to lighten the room and make it appear more airy. It is a popular vinyl feature choice for the modern, stylish home.
Ceramic/Porcelain Vinyl Tile - To bring more character into the home or for decorations of a particularly stylized style, porcelain or ceramic vinyl tiles are for you. This vinyl feature is often used for rooms like the kitchen where ceramic tiles may traditionally have been placed.
Marble-look Vinyl Tile - The marble feature vinyl offers a classical appearance that is often used in bathrooms or kitchens. It is ideally suited as it is completely waterproof. The marble appearance is a high-end style that is widely popular across Ontario.
Metal-look Vinyl Tile - The less common but much-loved metallic feature is primarily used as an accent tile to add an interesting feature to any room of the house.
What is Best Vinyl or Laminate Flooring?
Although vinyl and laminate flooring may look the same, they are very different in certain important ways. To know what is best - vinyl or laminate flooring - depends on your situation. Here is a breakdown of the differences between vinyl and laminate flooring.
Firstly, the materials that vinyl and laminate flooring are made of are different. While vinyl is entirely synthetic and therefore offers incredible waterproof qualities, laminate flooring's is mainly constructed from wood. Some laminate flooring will be made from almost 100 percent wood. Because of the composition of laminate, it may appear more like wood than vinyl does.
This makes vinyl the best choice for rooms where there will be a lot of moisture. Kitchens and bathrooms are the usual suspects.
Both vinyl and laminate are fairly easy to install and can be done without the help of professionals though expert hands will always make the installation quicker and reduce stress.
One complaint that some laminate floor owners have is that the material feels "hollow" as it is walked over. This is often because of the "floating" installation system, which is also referred to as the click-lock system. However, putting a layer of foam underneath tends to reduce this feeling.
Vinyl is usually more affordable than laminate flooring though luxury vinyl will approach the price of laminate. As you can see, there is no real answer to the question of whether vinyl or laminate is the best material. This depends on your needs, taste and budget.
Installation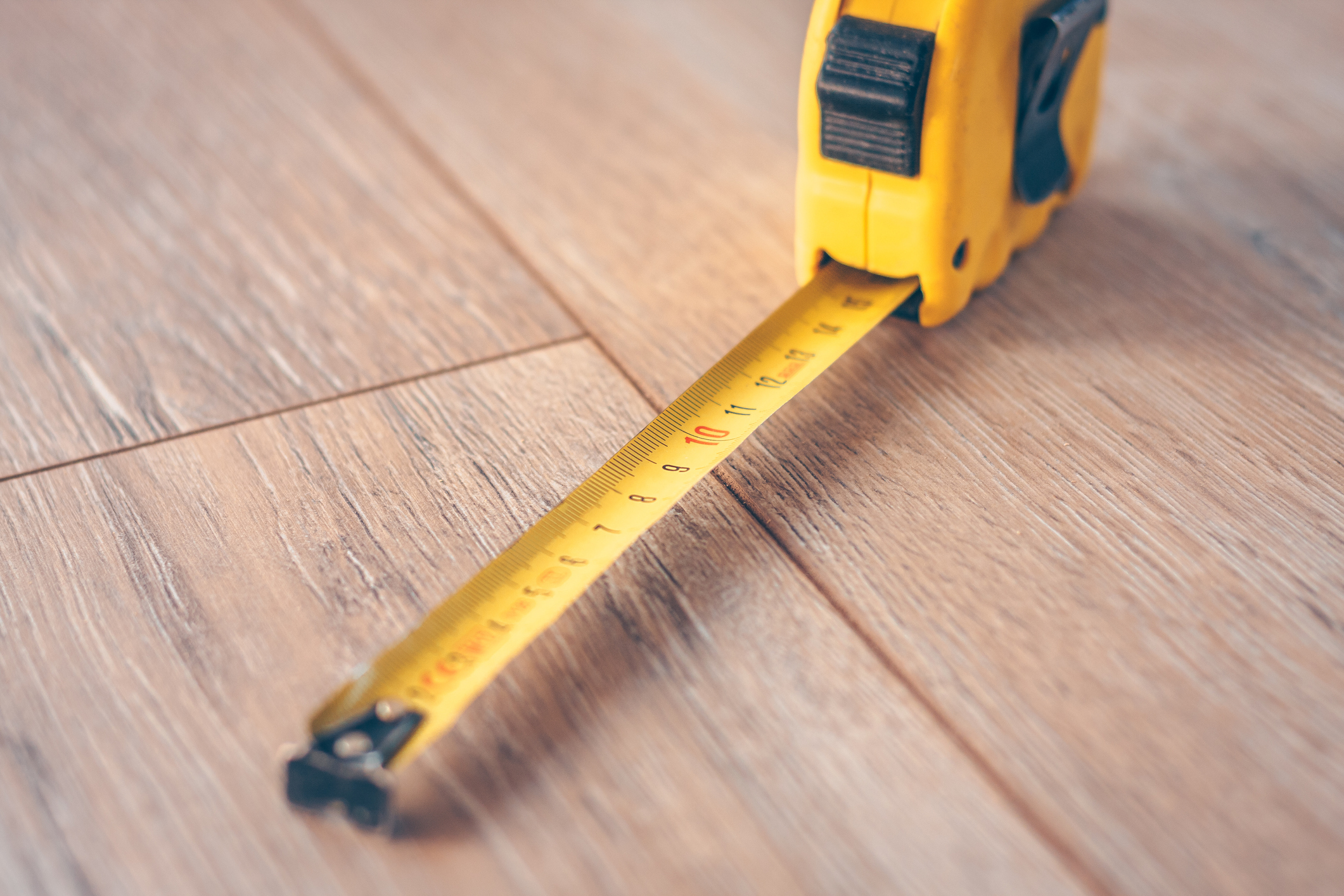 Step One
Preparation: Vinyl should be taken and left in the room where it is going to be installed two days prior to installation. This gives the material adequate time to adjust to the room temperature and expand or contract to the proper size prior to being installed. Expansion or contraction is entirely natural and will not be seen by the naked eye.
During this time, you can remove the baseboards in the room you will install. These can be reattached once the vinyl installation is complete.
Step Two
Ensure that your base floor is flat with a straight edge. Remove anything, such as cement or glue, which may make the floor uneven.
Step Three
Sketch the room and, if necessary, draw lines on the floor for where the vinyl will be laid. If you're using tiles then you will likely need to cut some. A sketch and lines will make this easier.
Step Four
Lay the tiles over the floor and cut them where they sit in place. Include plenty of excess for any faults or movements. Put craft paper under the vinyl tiles along the length of each wall of the room.
Step Five
Cut the vinyl ensuring you cut straight lines and keep within the floor sketch.
Step Six
Roll the vinyl away from the wall and spread adhesive material across the floor. You should make an adhesive strip that is at least six inches deep.
Step Seven
Attach your vinyl flooring to the floor. Apply firm pressure and smooth the vinyl to ensure a solid and flat connection.
Vinyl Flooring FAQs: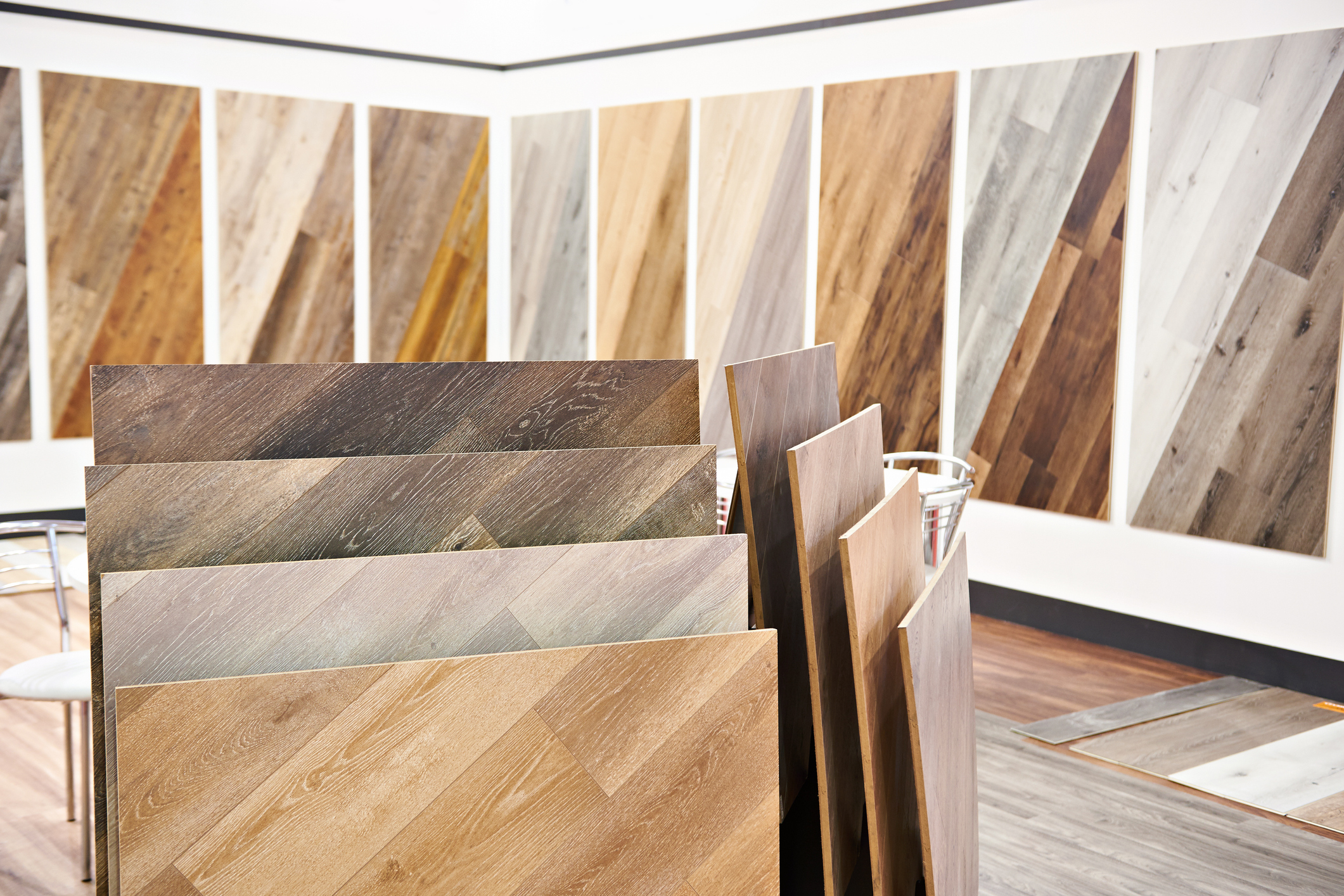 What is a good thickness for vinyl flooring?
The thickness of your vinyl flooring is usually determined by the area of the house it is installed in. In areas of the house that receive more foot traffic, for example, a hallway, you will require more thickness. Opting for thinner vinyl in low traffic areas will save you money.
The rule of thumb is to use 4.0 mm - 6.0 mm mm of thickness in heavily used areas of the house. For those rooms that don't get as many visitors, a thickness of 4.0 mm can be used. For family rooms, up to 7.0 mm is ideal.
What is the most durable vinyl flooring?
Vinyl is a very durable material, especially for its cost. However, some are more durable than others; generally speaking, the higher the price the higher the durability of the flooring.
Among the most durable vinyl flooring is fibreglass-reinforced sheeting. Thanks to the fibreglass, this flooring is far more rigid than others and provides a particularly hardy covering. This rigidity can also make the installation easier.
How long do vinyl floors last?
The life time of a vinyl floor will depend on a variety of considerations, including the initial quality of the flooring, the type of floor it is laid on top of, as well as how heavily it is used. However, vinyl floors tend to last a minimum of ten years while most will easily see two decades of service. Others can last for 40 years!
Do I need underlayment to install vinyl plank flooring?
Vinyl floors are generally laid straight on top of the subfloor. This is one distinct advantage over laminate, which requires underlayment to function. But while vinyl can be installed directly over the subfloor, many users add an underlay regardless. This is because underlay will soften the walking area, will improve the floor's heat insulating qualities, and deaden any sound.
Do you need an expansion gap for vinyl flooring?
Expansion gaps depend on the vinyl flooring you are using. If you have chosen to use peel and stick vinyl then you must not leave an expansion gap. If you do, it will move after installation and there will be a large gap in your floor. For interlocking vinyl panels then a gap should be left.
How long do you have to wait to walk on a vinyl floor?
A newly laid tile vinyl floor should not be walked on for 48 hours. This is because the adhesive used to keep the floor in place needs time to dry and hold. While it should be dry within 24 hours, a 48-hour gap offers absolute certainty of a well-set floor. While interlocking vinyl can be walked on right away, vinyl panels that have used adhesive should also be left for 48 hours.
Can vinyl flooring be used in a bathroom?
Yes, vinyl flooring is a fantastic choice for use in the bathroom. However, there are some types that are less suited to bathroom use than others. Sheet vinyl is the preferred bathroom material because it can generally be installed in one large sheet. This means that there are fewer seams or areas that water may potentially leak from.
Should I use a professional installer?
Professional installation is not necessary for vinyl flooring though many homeowners may wish to employ the experienced help to ensure the very best installation possible.
Professional installers should complete the job in an efficient manner and provide you with a perfectly laid floor. The cost of installation is not high and so many homeowners opt for this.
However, skilled D-I-Yers should be able to install vinyl flooring themselves. Mistakes may be costly but with proper planning good installation can be achieved.