Solid Hardwood Flooring · Engineered Hardwood Flooring · Hardwood Floor Species · Hardwood Flooring Dimensions · Hardwood Flooring Textures
When it comes to hardwood flooring types, where do you even begin? Do you start with the hardwood flooring dimensions or should you start with looking at the different types of hardwood and why you would select them? No matter if you are thinking of going with a solid hardwood, or an engineered hardwood, the team of Canfloor always has access to the handy hardwood floor species guide that will help you find your dream hardwood floors in mere minutes. In this article we have taken it upon ourselves to create the hardwood flooring bible, that will help our customers find the flooring that will match their lifestyle! So, no matter if you are looking to replace smooth hardwood flooring or want something a little more tough like a hand-scraped and distressed hardwood floor this handy guide will help you with all of your decisions!
Solid Hardwood Flooring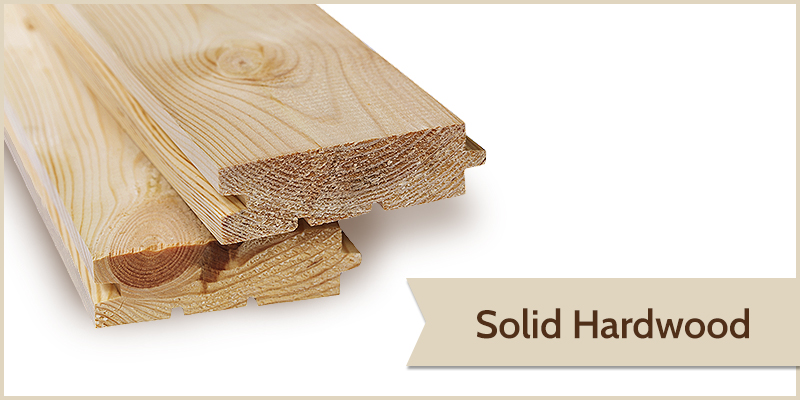 Solid wood flooring is one of the premier options for flooring in a home, and no matter if you are looking for something in a common area or a formal dining room, its elegance and durability will last a lifetime. Solid wood flooring is simply solid planks of wood such as hickory, or ash that can be utilised in a home or office. This type of flooring is generally installed in areas of lower traffic such as formal dining rooms or sitting rooms and focuses around a rich and clean finish that will ensure your floor is the focal point of any room. With a variety of colours and woods available, solid hardwood flooring is the perfect choice for those who are looking for luxury and elegance within their home. Although there are other options on the market, solid wood flooring continues to be considered the pinnacle of home flooring options here in Canada.
Engineered Hardwood Flooring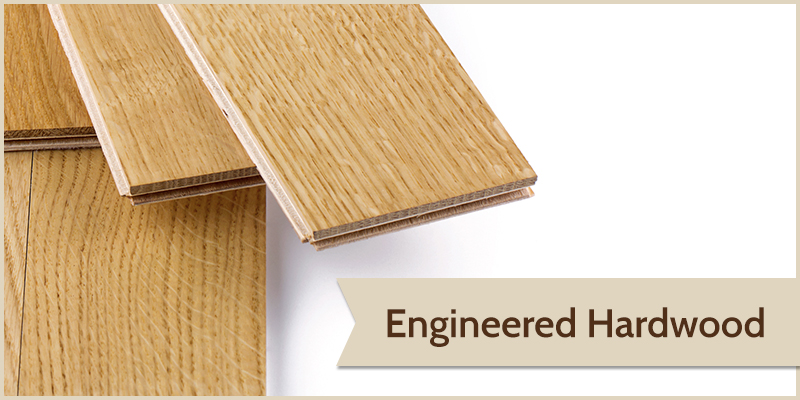 On the other side of the floor is engineered hardwood flooring. Engineered hardwood flooring is a hybrid flooring option that utilises hardwood, as well as, other materials to produce a cost-effective flooring solution that is perfect for the modern-day home. Engineered hardwood floors are ideal for condominiums and basements (concrete subfloor), they are great for residential and commercial units. Engineered floors are more stable than solid wood floors. Engineered hardwood has the benefit of being able to withstand even the busiest of homes, and is generally installed in high traffic areas such as the recreational room, hallways and kitchens. This flooring type is designed to take a beating, with many leading brands designing their engineered hardwood to withstand drops and liquid damage that can hurt other flooring options. This cost-effective option is perfect for the busy family home and has been tested in Canada to be pet, kid and hockey bag friendly!
Hardwood Floor Species
Trying to find the perfect floor species for space can always present a challenge, but here at Canfloor, we have all the exotic hardwood flooring species that you will need to make your house a home. We are proud to stock such a wide variety of both domestic and international options that will always be tariff free! Here are just a few of the great varieties we have in stock right now and some hardwood flooring types pros and cons for each type!
Acacia

If you have been looking for a tough wood that will hold up to some wear and tear, then look no further than acacia wood flooring. This African or Australian wood is truly unique in its appearance and can be a focal point for a room or an entire floor. If you like uniformity in your flooring, then stay away from acacia, as one of its characteristics is the random patterns that are created when it is laid.

Ash

For those who are looking to brighten up a dark room, the answer may be to install ash hardwood flooring. This tough wood has been a mainstay in Canadian homes for years due to its ability to take the wear and tear with ease. As well, due to its character, ash floors are often a focal point for a room and allow for a nice contrast when paired with darker furniture. One downside of ash is the price, as due to the Emerald Ash Borer, the trees must be harvested earlier in their lifespan due to this pest, which has caused a shortage of ash for the general market.

Brazilian Cherry (Jatoba)

If you are looking for a dark wood that is going to contrast perfectly with white furniture or cabinets, then Brazilian cherry hardwood flooring might be for you. This imported wood is one of the deepest reds you will see in today's exotic hardwood flooring species, and if you are looking for something a little uncommon, this wood is perfect. However, Brazilian cherry does lack the color palates of some of the other woods in our inventory, so you will be hard pressed to find a lighter shade if you fall in love with this tough wood.

Hickory

When looking for hickory hardwood flooring you need to expect straight and wavy grains that come in a variety of colors. From deep grey to a darker wood, our selections will ensure you will be able to have a room that you truly love. Plus, hickory is a hard wood which will ensure that your floor will look a little newer than the other types of hardwood floors species.

Maple

We all know and love maple hardwood flooring, but the real question is what color are you going to choose. Maple has been one of the most popular types of wood in Canada since we started building homes, and its ability to take a bit of wear and tear is infamous. No matter if you are looking for light or dark look, a maple floor will always make a room pop!

Red Oak

When you are looking at options, red oak hardwood flooring is always a safe one. Best used when you are looking to for a darker wood that has some character, red oak has been a popular choice for years due to is toughness and relative availability. We have some great color and grain choices in red oak, and the best part, it is made in Canada!

White Oak

White oak hardwood flooring is always a safe bet when choosing a floor. This lighter flooring option will help ensure that you and your family will be able to enjoy your flooring for years to come. It is tough, dent resistant, and most of all leave some great options to pair for in terms of interior decorating due to its natural hue and soft grain.

Sucupira

A native of Brazil, Sucupira hardwood flooring is one of the toughest woods that we import, and in fact is as tough as hickory. Sucupira is known for its deep browns, and light cream colour variations, and although it is an exotic wood, many Canadian homeowners have opted for it in formal dining rooms or kitchens due to its toughness but great look.

Tigerwood

Named after its dark orange colour and black veins, tigerwood hardwood flooring is one of the most exotic looking floors you will be able to buy here in Canada. Coming from Brazil, this hardwood is very tough, and in fact, takes special sawblades and sanding techniques to avoid damaging it during the installation process! One thing to know is if your floor gets direct sunlight the flooring will change colour over time in that area.

Birch

If you are looking for a traditional Canadian look then birch hardwood flooring is always worth an investment. No matter if you are looking to install a floor in the cottage or at home, the birch hardwood flooring reviews are always consistent. It is a tough wood that provides a neutral floor and goes with practically any furniture, rug or décor. Birch essentially is the swiss army knife of the hardwood floors industry.
Hardwood Flooring Dimensions
One of the most important aspects of any floor installation is the wooden flooring dimensions. There are a few things to consider, and most of all it is to ensure that when choosing your hardwood flooring types of wood, the planks will align with your overall style and home. Here at Canfloor, we are proud to offer a variety of dimensions to ensure you find the planks that are perfect for you.
Dimensions
Hardwood Floor Species Available in Our Store
3-1/16 x ½
White Oak
3-1/2 x ¾
Red Oak
3-1/4 x ¾
Red Oak, Maple, Brazilian Cherry, Jatoba, Tigerwood, Hickory, Sucupria
4-0 x ¾
Maple, Sucupria
4-1/2 x ¾
Jatoba, Brazilian cherry (Jatoba)
4-1/4 x ¾
White Oak , Brazilian cherry (Jatoba), Ash, Maple, Red Oak, Tigerwood, Hickory
4-3/4 x ¾
Acacia, Maple
5-0 x ¾
White oak, Maple, Red Oak, Brazilian Cherry, Jatoba
Hardwood Flooring Textures & Finishes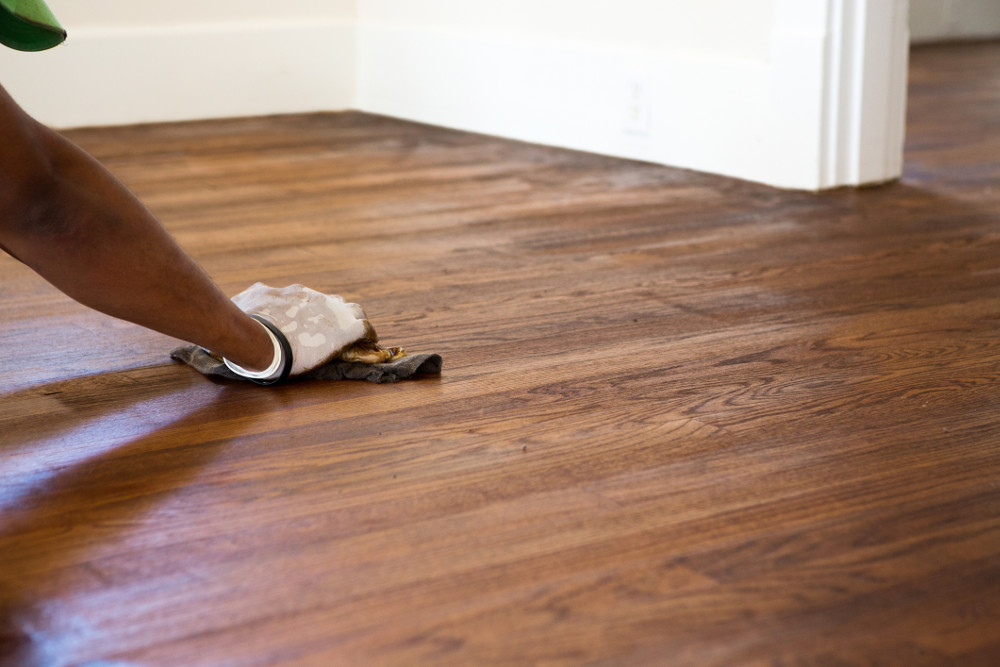 After you have chosen solid hardwood or engineered hardwoods, the type of hardwood floors and the size, the final step is to determine what type of hardwood floor texture are you looking for? There are plenty of choices on the market, and depending on what type of look you are going with, and the feel you want under your toes, your hardwood floor texture will change with each choice. Here at Canfloor, we are proud to offer four distinct types of hardwood floor texture for all our clients!

Hand-Scraped Hardwood Flooring
Hand-Scraped Hardwood Flooring is a finish that looks to emphasize a floors natural beauty and character with each panel. This type of finish will have a medium gloss that will not overpower your traditional hardwoods, while still leaving enough protection in case of spills or drops. Typically, hand-scraped flooring is best left to the hardwoods such as hickory or maple but can work with practically any variety of hardwood floors.
Hand-Scraped & Distressed Hardwood Flooring
Hand-Scraped & Distressed Hardwood Flooring takes the best of the hand-scraped hardwood look and adds some rustic, almost lived-in look to the floor. Traditionally, distressed floors are best utilised in a home that is looking to showcase a country chic or rustic look, while still having a quality floor installed. To distress the floor, it can either be manufactured or done by hand through a combination of nails, screws and chains. The distressed floor is then covered in a medium or low gloss to protect it from spills and seal the wood to ensure it will be able to be utilised for years to come. No matter if completed by machine or hand, a hand-scraped and distressed hardwood floor can truly bring a room together with the right type of wood and furniture.
Smooth Hardwood Flooring
For those who are looking for the modern look for their hardwood floor, it is often best to look the way of the smooth hardwood flooring option. This style is best used in a sharp way and will work when trying to contrast a dark floor with light cabinets or the other way around. If you are looking to install a smooth hardwood, make sure to either choose very thin dimensions or something a little larger, as this will help the look of the floor. Ash, red or white oak and maple are great choices when looking at smooth hardwood, but any type of hardwood floor will be able to look great with this high glossed look.
Wire Brushed Hardwood Flooring
Wire Brushed Hardwood Flooring is a bit of a new phenomenon here in Canada, but it is truly a thing of beauty. Simply put, a wire brushed hardwood floor will have a toothed and accented grain due to the treatment of the wood with a wire brush. The consistency of the wood is a little rougher than hand scraped but does not have the dents and lived-in effects of a distressed floor. Wire brushed floors often give a floor a more dramatic look due to more of the natural grain being showcased, which in turn, provides clients with the flexibility of matching or contrasting their furniture and décor with their hardwood floors. When it comes to hardwood flooring there are a lot of options to consider, and luckily for you, the team at Canfloor has one of the largest selections of hardwood floors in the industry. Take a scroll today, and see if you can find your next flooring option at the best price at canfloor.com.